If you want to build a career in nursing and want a head start in the nursing field at a very early stage of your career, then pursuing a diploma or certificate in the nursing courses after 10th is the way to go.
There are various courses that you can pursue right after you pass the 10th standard. However, all of these courses are paramedical. Most of the good diploma courses in nursing that are recognized by the INC (Indian Nursing Council) have an eligibility criterion of 10+2.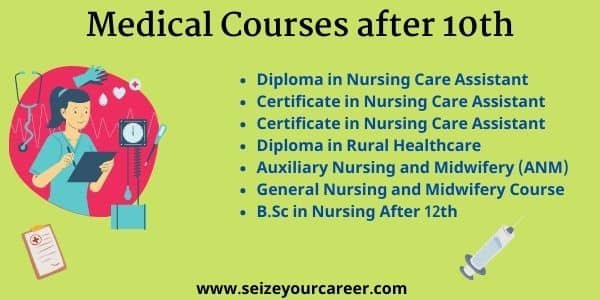 Scope of Nursing Courses After 10th
There is an ever-rising need for nurses in the healthcare sector all around the world. Especially now, in times of COVID-19, the healthcare sector has become one of the most important sectors. Nurses and paramedical help play a very crucial role in providing good care and treatment to patients.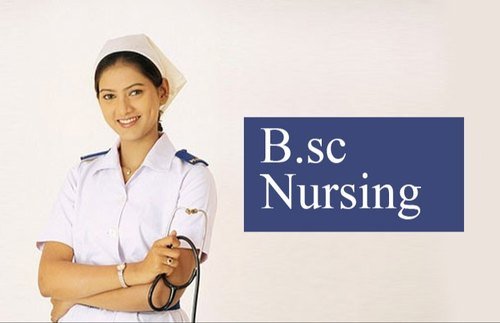 There is and always will be a huge need for nurses, nationally and internationally. And gaining a certificate or diploma in nursing courses after the 10th gives you an added advantage as you can start working as a paramedic in the healthcare sector. The duration of these courses varies from 1-2 years, depending on the course.
Having a diploma and some experience as a paramedic helps in getting into good colleges recognized by the INC for pursuing diploma courses in nursing after 12th.
List of Paramedical Courses can be Pursued after the 10th
Diploma in Nursing Care Assistant
This diploma is a 2-year course that helps you gain nurse assistant skills and knowledge. Nursing care Assistants work under qualified and experienced nurses and are also known as nurse aides. The fee of this course varies from INR 1,500 to INR 1,50,000 depending on the college you are taking admission in.
Certificate in Nursing Care Assistant
This course is on similar lines as diploma in nursing care assistant but the duration is only 12 months including job training. This course is designed to train the students to provide medical and nursing care to home-based patients suffering from acute or chronic illnesses.
Certificate in Nursing Care Assistant
This course is on similar lines as diploma in nursing care assistant but the duration is only 12 months including job training. This course is designed to train the students to provide medical and nursing care to home-based patients suffering from acute or chronic illnesses.
Diploma in Rural Healthcare
It is a 1-year diploma course that is designed to uplift the health situation in rural areas. Students are taught basic healthcare, sanitation, first aid, and patient education. The fee ranges from INR 10,00o- INR 1,50,000. You can start working as a rural healthcare worker around the country.
All the above-mentioned paramedical courses after 10th follow the semester system and one can start working right after the completion of any of these degrees. These jobs require you to be responsible for the health of the patients and attentive to the patients' needs. A lot of compassion and knowledge are needed to fulfill this role.
Objective of Nursing Courses in India
The objectives of all these nursing/paramedical courses are the same. Let us learn what these objectives are –
The primary and foremost objective of these courses is to create a workforce that caters to the needs of people suffering from chronic or acute diseases.
The students learn how to maintain personal hygiene in the workplace.
The trainees also learn the measures with which they can ensure patient safety and health improvement.
They are trained to be attentive to a patient's vital signs and document the progress of the patient's health.
The courses also strive to teach methods of diagnosing patients based on their physical symptoms as well as behavior.
Trainees learn to be consistent while reporting a patient's progress and vital signs.
The patient should feel comfortable and secure in the hospital environment and that's what these courses aim to achieve.
Jobs after Nursing Courses in India
There is a growing need for skilled nurses all around the globe. The supply of nurses every year is not as much as the demand for them. So if you decide to pursue a career in nursing, you would never have to worry about not finding a job.
The healthcare sector has become a great necessity in today's times as compared to earlier. Hence, doctors and nurses are in great demand, more than ever now.
The healthcare sector is so vast that it has several sub-sectors that you can choose to work in.
Hospitals– Both private and public hospitals employ thousands of nurses and paramedics every year.
Nursing homes– Due to the changing lifestyle, more and more people are being admitted to nursing homes. Nurses and paramedics are needed to take total care of the residents.
Administration– Management of patient care, nursing personnel, and resources are some of the functions in the area of administration.
Schools– Every school, mostly the private ones, have medical rooms that aim towards the basic health needs of the students and teachers. You can choose to work in schools as a nurse.
Medical Writing– A medical writer is a person that uses clinical research to write about product use, developing trial documents that describe research results clearly, and other medical information.
Healthcare centers– Healthcare centers are state-owned rural health centers in India. Healthcare centers- Healthcare centers are state-owned rural health centers in India. to work.
Different Types of Career Options in Nursing After 10th
Pursuing a paramedical/nursing course after 10th exposes you to so many career options. There are so many places you can work in and several fields you can choose to kick start your career in nursing. The scope of this career isn't limited to just hospitals and being a paramedic or nurse. It's so much more than that. Read further to learn what that is.
Advanced Practice Nurse
With titles like clinical nurse, nurse practitioner, nurse midwife, etc, an CAN is involved in more advanced and practical aspects in various health settings. A master's degree is essential to become an advanced practice registered nurse.
Staff Nurse
A staff nurse takes care of medical patients. Various job vacancies open up in Indian government hospitals such as AIIMS, ESIC, Nursing Corps, and Indian Army hospital.
Nurse Manager
Nursing management involves performing managerial roles such as planning, staffing, organizing, and controlling. Leadership and decision-making are some of the qualities that require to be a good manager within an organization of nurses.
Nursing Teachers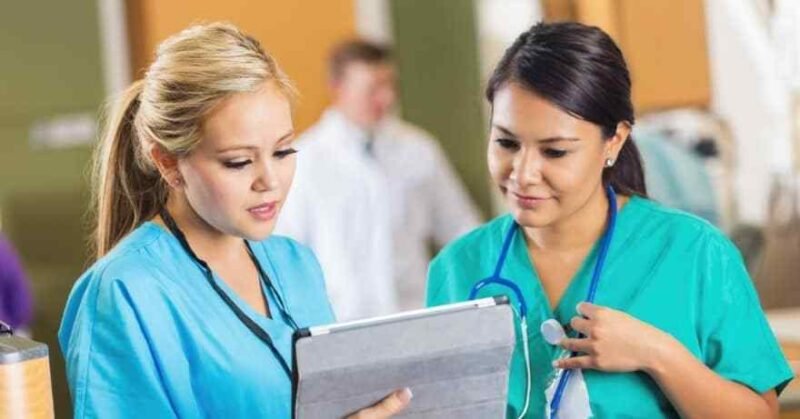 If you think you have the capabilities that it takes to be a teacher, you can be one. A nursing teacher passes on their knowledge and skills to the oncoming generation of nurses.
Researcher
A researcher is a part of the research involved in the development of various medicines, vaccines, and other clinical research.
Nursing Courses after 10+2th in India
We would recommend that you should complete your school education instead of dropping out and focusing on just the nursing course you have taken up after the 10th. It is always better to pursue a nursing course after the 10th and also finish school. There are many options after 12th standard to broaden your horizon and become a registered nurse (RN).
Opting for Science after 10th helps a great deal as you get to study subjects like Physics, Chemistry, and Biology and that leaves you with several nursing courses after 12th. Moreover, having a diploma and some work experience help you get into good colleges. Some courses that you can pursue after 12th to become a nurse are mentioned below.
B.Sc in Nursing After 12th
B.Sc in nursing is a 4-year program that is offered by many medical colleges in India. The basic qualification required is 12th in the stream Science.
General Nursing and Midwifery Course (GNM)
GNM is a diploma course and its duration is 3 years and 6 months. You can pursue this course if you want to be a clinical nurse.
Auxiliary Nursing and Midwifery (ANM)
This is a 2-year diploma course designed to train students in medicines, providing medical assistance, and healthcare.
Summary
Nursing job is one of the jobs that require you to be responsible and dedicated to what you do. It is a great opportunity to save lives and help a lot of people. Healthcare will never cease to exist. Given people's lifestyle, food habits, and stress, the life expectancy rate has come down considerably.
We are prone to so many viruses, diseases, and life-threatening illnesses, which means we require more medical care. More and more doctors and nurses are needed today. And hence, more vacancies are created every year. So, if you are thinking of stepping into this field, you have made the right decision. It is not necessary to get a diploma in nursing right after 10th.
You can complete your schooling first and then pursue the desired course after 12th. Having a diploma in nursing already gives you an added advantage and more knowledge. We wish you all the best in your future endeavors.
Please Subscribe to Our newsletter for latest updates. For any query reach out to us – [email protected]
FAQ
Is Nursing is a good Career?
Yes, Nursing is always considered a good career option because of its high demand for healthcare. After coronavirus people are more health-conscious and govt of India is also looking for more candidates in healthcare especially in nursing.
Can We Join Nursing After 10th Class?
Yes, Of course. You can join nursing after 10th. There are many option available to pursue nursing courses after 10th and 12th.
What are Top Nursing Courses after 10th and 12th?
Some of the top courses are Diploma in Nursing Care Assistant, Diploma Rural Healthcare, Diploma in Home Nursing, ANM, GNM etc.