Note – Before Going further please note that I have tried my best to provide you best possible information about What is Whitehat jr, who can register for these coding courses, whitehat jr reviews, price, login dashboard, and much more. Grab a cup of coffee and read carefully because this article can make your kids' future for sure.
Enrol for a FREE TRIAL class for your kid Below –
With each grade a child passes, the previous ambition passes with it and a new one comes along. Often when kids are asked "What do you want to become?" and their answer seems unconventional, we say "Oh, It's too early for that."
Well, guess what? Just like it's never too late, it's never too early.
Update – Many people were facing issue in finding whitehat jr student and teacher login dashboard so, we have attached the link to login in last.
Complete information about Coding for Kids and different coding program.
Coding and programming is one such unconventional thing for a kid to engage in. Learning to code is learning to create and innovate. Ultimately, that is what we try to introduce to our kids in their early life. Here's what does exactly that. WhiteHat Jr.
What is Whitehat Jr?
WhiteHatJr is an initiative by the alumni of Google, BCG, Discovery Networks, IIM Banglore, and IIT Bombay that provides live online coding for kids. I mean, who would've thought. Kids. Learning to code. Online.
WhiteHat Jr is a platform for kids where they can learn how to code. It is founded by startup by Karan Bajaj, an Indian-American businessman, that was launched in December of 2018.
The organization, recently bought by BYJU's for $300 Billion, reported 400,000 engaged students as of 2020. But It's success only depends on the reviews of people who are using it already.
Whitehat Jr is a coding platform for children aged 6 yrs to 18 yrs old to learn to program. Children are encouraged to create games, animations, and applications. The organization functions on a 1:1 online teaching format and follows a thorough curriculum.
Their subjects range from data structure, app, and game development to machine learning and space technology.
Why WhiteHat Jr Started?
WhiteHatJr. was created with an aim to bridge the gap between the requirements of the new world and our children's skills considering that in this computer age, not even 1% of schools teach coding in early childhood.
The organization is supported by a user-friendly website. Two things are made very clear as soon as you step into their online space.
No promotions ever. Whitehat Jr coding platform promise to not use the contact details and personal data provided to them for any promotional or irrelevant purpose other than the child's progress report or similar.
'We're Mission-driven, not money-driven.' They have a cancel-anytime and Same-day-100%-refund policy. No questions asked.
Indeed, honesty is the best policy and confidence is key. These conditions are totally appealing.
Whitehat Jr Demo Class & Curriculam
At WhiteHat Jr, They let the child be the scriptwriter, the director, and the actor in his own play. WhiteHat Jr. offers limited but detailed and specific courses. But, before we go there, one to-do is to sign up for a demo class.
Why You Should SignUp for Whitehat Jr Demo Class?
This demo class will give you and your child a heads up about whether or not engaging in coding interests your child.
The demo class is what we admire the most. It is an hour-long demo wherein the child gets a hands-on experience of coding. The demo takes the child through an app development using block programming.
Now, block programming is a language that is way easier than traditional text-based languages like Python and Java. It is used to teach children how to create basic programs and make them understand programming.
The actions in block programming are cut down into blocks that are then represented in the form of icons that can be dragged around to reorder actions. The graphical representation of the code demonstrates the process of new users who may be unfamiliar with programming. Cool, isn't it?
Whitehat Jr Fees Structure
Whitehat Jr fee structure is different for each course available and is categorized as beginner, intermediate, advanced, and professional. A beginner is designed for grade 1 students, intermediate for students of grade 2-3, advanced for students between grade 4-6, and professionally suited for grade 7-12 students.
This Whitehat Jr coding course is a must for a 6-12 yrs old kid. Out of all the courses WhiteHat Jr has to offer, here's what we've curated for you.
Introduction to coding – This course consists of 8 classes in total. This is a beginner level course. It covers Sequences, Algorithms, Variables, Functions, and Events of coding. It introduces logical thinking to the students through activities that enable students to create their own games and basic apps. This course is priced at Rs. 5,999 currently.
App Developer Certificate – This particular course has 48 classes available. It revolves around animations, game designs, and advanced app structures. With the help of creating interactive apps with deep UX/IU interface, understanding of programming functions is initiated. The child gets a glimpse of creative entrepreneurial expression. On completion, a certificate is rewarded. The course is priced at Rs. 33,999 at present.
Advanced Coding with Space-Tech – This course consists of 144 classes in total. It is an advanced level course. The child is made familiar with data models, space-tech, and artificial intelligence through commercial ready utility apps and advanced space stimulations. The child also learns of data spatial visualization perceptively. This course has lifetime accessibility. Currently priced at Rs. 99,999, this course covers it all.
What I personally think it Whitehat Jr fees structure is a little bit lengthy but when we look at courses and the efforts taken by teachers to teach a kid who doesn't know anything is superb. We should agree with Whitehat Jr fees structure.
Whitehat Jr Reviews
We have introduced what is whitehat Jr, its courses and curriculum, whitehat Jr fees structure so, now its time to reveal whether is it a good coding course for your kids or not? I haven't put my personal experience here I am attaching some comments made by general people. Let's have a look at the Whitehat jr reviews –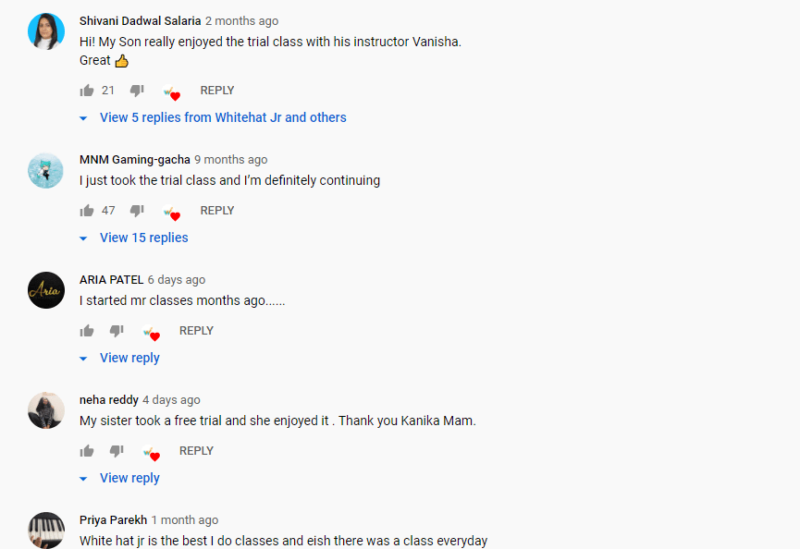 I had arranged demo classes for my Niece and she is loving it. Soon Will create her own app.
Different Type of Coding Courses Covered and Curriculum
The Coding course curriculum is broken down in 144 classes as shown below.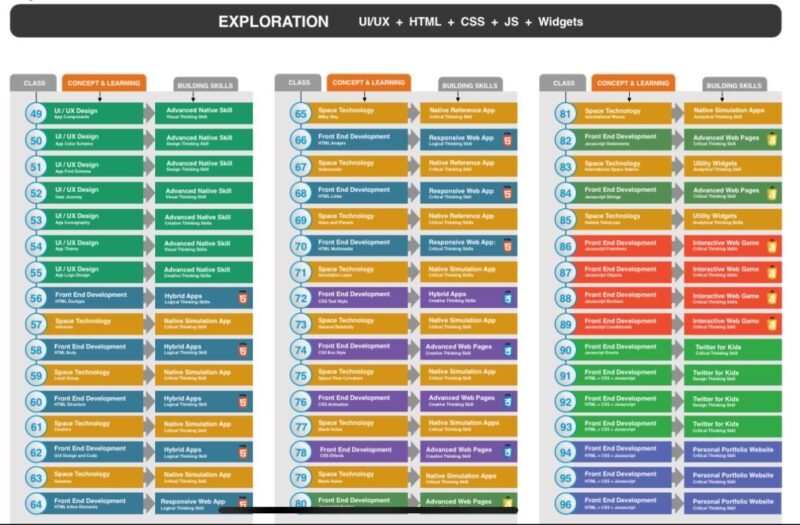 After all these years of parents trying to keep their kids away from devices and games, they will be inventing and creating exactly those. WhiteHat Jr. has proven that technology is not all that bad when used right. With the best of teachers and the most beneficial technology, WhiteHatJr. has created something incredible. Whitehat Fees structure is also good as compared to their
How to Login in Whitehat Jr As Student and Teacher?
Whitehat Jr Student Login
Once you have registered on WhitehatJr then you need to login to student login for your kid to access courses and manage his/her class. Then, it's important for you to know how the whitehat jr student login portal and its link to login.
Don't get confused in login and signup, you always have to go for student login. Only once we have to signup for any website. Link to Whitehat Jr Student Login is here – Login Here
Whitehat Jr Teacher Login
Whitehat Jr has different login portals for both teacher and student. If you are a teacher then you have to log in from Teacher's login portal. Basically, it counts the no. of hours a teacher has given to a student and how many students he/she has attended according to their schedule.
So, if you are looking for a whitehat Jr teacher login link then its here – Login As Teacher
Conclusion
It is a platform where enthusiastic teachers are met with equally curious and cute students. It is a win-win for all its users, be it students or teachers. I Hope these Whitehat Jr reviews helped you in your decision. It is a big scale startup by Byju's leading online learning platform for kids.
You should go blindly and take a free demo class and decide whether your kids love it or not? The final decision is all yours. What I can suggest is to trust Whitehat Jr.
Want Your kid to make his/her own App – Register here and Get up to 10% OFF in Whitehat Jr fees.