Are you looking for the highest paying jobs in India in 2020 for a lucrative career? Don't You?
Yes, Yes, Everyone wants the highest paying jobs in India throughout their career. But is it really hard to find a job option which offers a good career path with high paying?
There are three aspects which should be considered before getting attached to a job. First one is to earn money. Second is to fulfil ones passion.
And the last one is the combination of the second and first. Including these three ways, you can get into some of the highest paying jobs in India in 2020.
See, There are a lot of jobs which has a really good paying scale moreover, it also depends on the company you are looking into.
For the same profile, you might be getting 8 lacks per anum and your friend is getting 15 lacks for the same profile. Basically, it is the difference between the firm/companies you are working in.
Can you compare Amazon/Google job salaries with other companies? No. you can't. That's all.
Indian students not even only Indian every student all over the world are really interested in knowing details about high paying jobs.
Every student wants to get into such careers, which offer high salary and additional benefits and perks.
Also Read-
A high paying job provides you with a sense of financial security, a good lifestyle and good social status. The professions discussed in this article belong to both the Private and Government sector.
In this article, We will be discussing the highest paying jobs in India which are best in 2019. Here is the list of some of the high paying jobs-
Data Scientists
Investment Banker
Charted Account
Blockchain Developer
Management Consultant
Product Management
Machine Learning
Marketing Professionals
Data Scientists
Data science is one of the relatively buzzing and new options which offers lucrative packages. Role of a data scientist is to help manage and organize a massive amount of collected data.
He gets engaged in insights from that data to drive business decisions that improve profits and productivity.
The biggest reason for choosing Data Science is a rise in the demand for data scientists by 40 per cent since January 2019. After 2013 it becomes300%.
This much of rising in demand is because all the organizations are dealing with data and to be successful you need scientists who are good at dealing with data.
Average base salary according to payscale is 9,50,000/yr.
Basic salary for Data Scientists is between 4 – 12 lacs even they have experience or not. After 5 years a Data Scientists can expect a salary of 60 – 70 LPA.
Graduates / Engineers can want to pursue their career in Data Scientists can go for PG Diploma in Data Science, its an 11-month program.
Investment Banker
An investment banker is counted as one of the highest paying jobs in India and worldwide too. Basically, an investment banker helps their clients in investing their money or selling equity in the big companies for high possible outcomes.
A client can be anything like a bank or any organization.
Some other duties of an investment banker are guiding and assisting them throughout the investment. It's like people are choosing you to play with their money. (:
According to Glassdoor, Average salary of an investment banker in India is ₹807,663/yr
Charted Account
A chartered accountant is supposed to track the capital and financial record of many large and small corporations. CAS works in different areas like financial accounting, tax management, banking, auditing, and cost accounting etc.
Most of the large companies have their own CAs because it is very important for business as this will help them to expand and manage their company's finances.
A CA need to be reliable and efficient along with that he/she needs to be very good with numbers. CA with time management and good speed to work within time is a perfect combination.
According to Payscale average salary of a CA is Rs 778,141.
Blockchain Developer
Blockchain is the new trending revolutionary field. Its redefining everything from internet connectivity, currency transactions, to data security and handling. This type of technology helps to reduce costs, cuts out middlemen, and increase speed and reach.
It is supposed to usher in greater traceability and transparency.
Whether its a public or private sector everyone is getting indulge in this new marketing technology. But, still out there-there are not enough specialists are and you can count this as an opportunity.
The demand for blockchain developers is going higher day by day and it could be best in best among all the highest paying jobs in India as well as the world.
According to the Glassdoor average salary of a Blockchain, Developers is ₹697,664/yr.
75% of the professionals are getting in between 6 Lacs to 25 Lacs. Highest salary even goes up to 50 lacs per anum.
Hope You find this article suitable and information may vary that's why we have counted the average salary. Thanks for reading 🙂 Let us know how we can improve our content. Thank You
Summary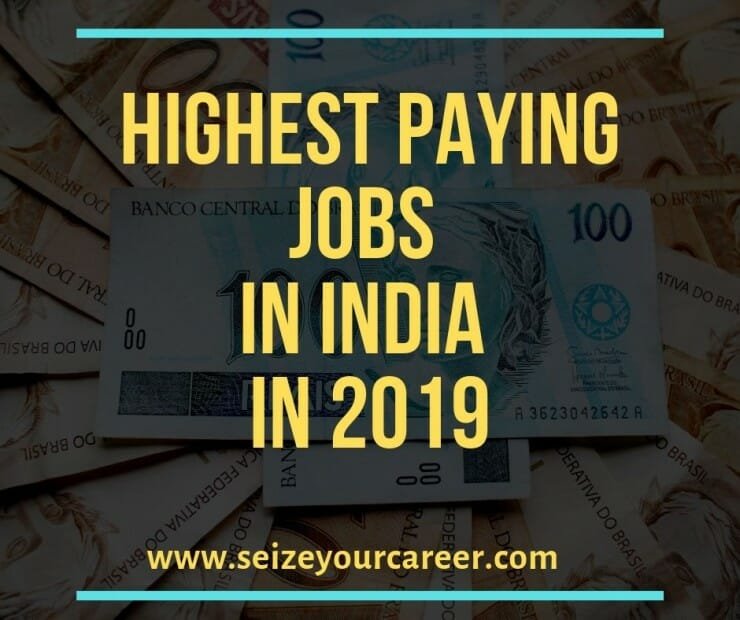 Article Name
highest paying jobs in india in 2020
Description
This article talks about what are some of the highest paying jobs in India In 2020. Today everyone is going after jobs which are paying high so to help them and let them know that what are the trending jobs you can go for.
Author
Publisher Name
Publisher Logo